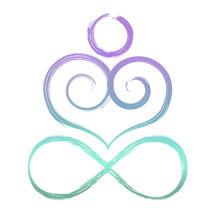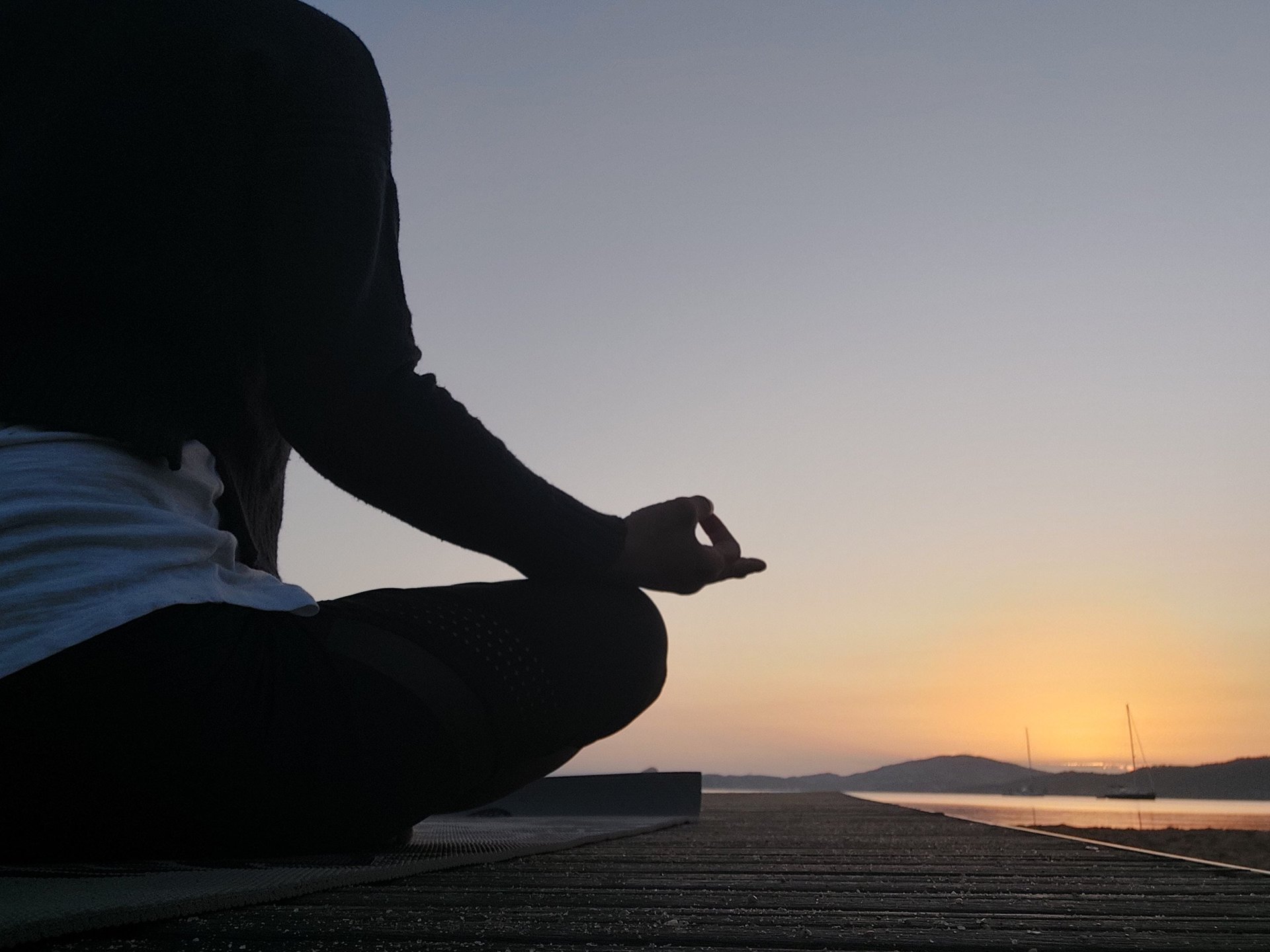 My name is Leila Najim and I am a yoga practitioner and teacher. In this website you will find information about my personal yoga journey, my events schedule and how to get in touch with me. I am currently located in Milan, Italy, and I teach Sattva, Hatha, Vinyasa, Yin, Prenatal & Postnatal yoga.
I am a yogini and a warrior of light. Having chosen love, dignity and courage to honor the Truth, I support human evolution and celebration of life by spreading empowering and self-healing yogic techniques coming from the Tantric and Vedantic Tradition with the people that cross my path.
My commitment is to practices that invite our deepest self-exploration and invest in our shared well-being.
Yoga is a science designed to awaken each practitioner to their True nature through the healing, alignment and enlightenment of the body, mind and soul. It has its roots in the timeless Vedantic and Tantric Traditions of the Himalayan Masters. I was blessed to learn about yoga science from the great master Anand Mehrotra at Sattva Yoga Academy at the foothills of the Himalayas, in India.
Sattva Yoga is a unified teaching combining timeless practices and techniques in a powerful way. Practicing this radically holistic discipline allows one to merge physical activity, transcendental wisdom, devotion and correct action in every moment of existence for a fully conscious, expanding and fulfilling life.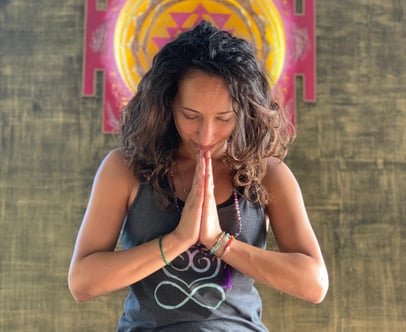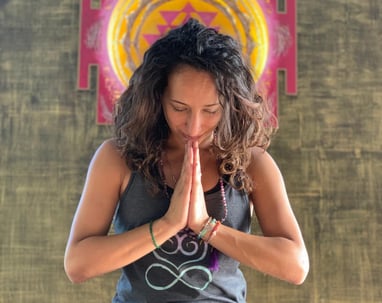 This integrated discipline aims to bring the mind, the body and the soul in perfect alignment and balance to allow connection and unity with our higher nature. These practices allow one to understand the functioning of the mind and unconscious behaviors, refine the intellect and become a witness of the thoughts, actions and ego. They also increase strength, build vitality and create mental clarity leading one toward inner silence and stillness, the space of infinite potential.
Yoga is the art of self-dominion and cessation of movement in the consciousness. Through self-knowledge and self-mastery, it increases both body and mind awareness. The practice of yoga enables us to move the awareness within and help us to raise our state of consciousness through self-observation. It increases awareness, evolves the individual consciousness and expands collective consciousness. In the silence of pure consciousness, awareness moves within itself, the attention is no longer external, but rather the subject becomes the object and through self-observation attains self-realization.
Lower tendencies, such as ignorance, lethargy, greed and the lack of honor, gratitude and love, erode the integrity of our existence. To be a yogi and a warrior of light means to live not in the illusion of peace, but going fearlessly at war with one's own demons and fears and emerge victorious from this internal battle. The victory is not necessarily the death of shadow, but acknowledgment of it; bringing awareness to the root cause and the workings of it, allows one to come to a state of control and therefore peace with it.
Freedom is a state of self-dominion that is attained when one's own fears and demons are shred and embraced by the light of our consciousness and dissolved through the power of self-love, forgiveness and gratitude and by simply surrendering to Truth.
Yoga is ultimately a state of being, an experience of being and a way of life. In Sanskrit, the word yoga means union and a life of yoga is a life of unity resulting in a natural state of bliss and freedom.
I am available for 1:1 personalized sessions, as well as group work, in person and online








Sattva Yoga
Sattva yoga is the practice of the whole science of yoga, including the practice of asanas (physical postures), pranayama (breathwork), meditation, kriyas (that are evolutionary actions that lead to the release of bio-memory, allowing deep healing at a cellular level), mantra (chanting), mudras (energy seals) and bhandas (energy muscular locks).
Prenatal Yoga
Practicing Yoga supports moms-to-be and moms physically, emotionally and mentally during pregnancy. It's a safe space where to feel deeply all levels of transformation involved, connect to the baby, focus on breathing and breath awareness, pelvic floor work, back strengthening, restorative poses and relaxation.
Hatha-Vinyasa
Hatha and Vinyasa yoga are focused on asanas (physical postures) and alignment and are characterized by the coordination of conscious movement of the body with the breath. Vinyasa is more dynamic and energizing. It's a practice that wants to awaken the qualities of the Warrior of Light within us. A heart-centered being with a powerful core working on all aspects of meaning strength, balance and flexibility.
Meditation
To meditate is to observe the movements of the mind without judgment or attachment. This ancient technique allows us to explore the mind, understand the origin of thoughts and select those that we intend to consciously cultivate. Cultivating a conscious state of mind leads us to live in the present and this fosters a sense of gratitude and happiness that often escapes us in the fast-paced modern life.








Sadhana Program
Sadhana literally means methodical discipline to achieve the desired knowledge or goal and consists of dedicating oneself to a personal practice of an evolutionary character for a prolonged period. According to the yogic tradition, it takes 40 days to change a habit, retrain the mental process and the nervous system associated with it.
Postnatal Yoga
Practicing Yoga after pregnancy and labor helps a woman recover physically and supports her mentally and emotionally in a very delicate moment of her life.
Wellness Retreat
Diverse experiences of retreats that include wilderness hikes, yoga, meditations, rituals, mindfulness classes, specialized workshops, journaling, sound baths, nutrient-dense foods, organic cuisine. They can also include various outdoors activities like kayak tours, sailing, kite surfing, skying and much more.
Rituals & Ceremonies
Rituals give the events we experience meaning and our lives themselves a sense of purpose. I invite everyone to deepen the sense of reverence and devotion to the present moment and the alignment to the natural cycles to revive our connection to Spirit, our essential nature and natural intelligence.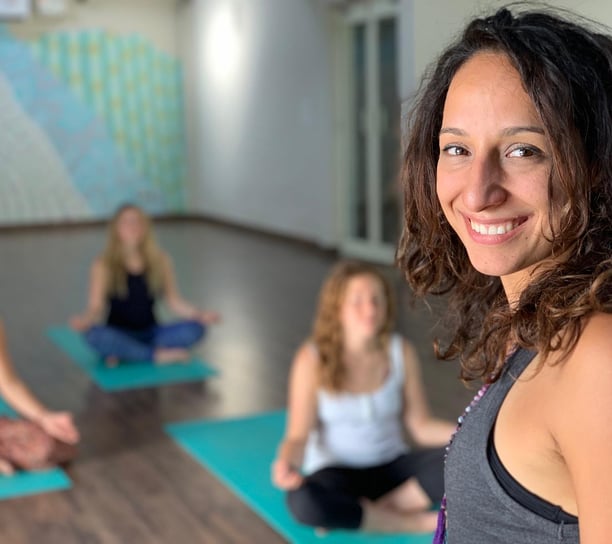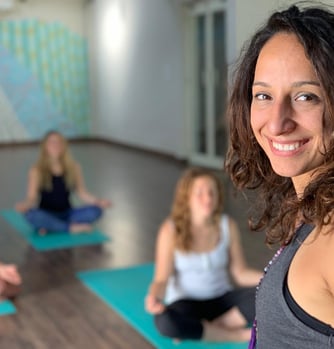 If you have any questions about the practice, services, programs and retreats